SEEDS Reviews and articles:
Interview by Eszter Zimanyi, Ben Loeterman and Elisha Baskin
This interview was conducted following the national airing of 1913: Seeds of Conflict on PBS in the United States. 1913 is an hour-long, educational documentary based on the book1913 Jerusalem by Amy Dockser Marcus. The film explores the social and cultural climate of Palestine during the waning years of the Ottoman Empire, and the experiences of both indigenous Palestinians and the earliest European Jewish settlers in the region at this pivotal moment in history. This interview engages a number of themes, including history and historiography, accessing and researching in archives, the Boycott, Divestment, and Sanctions movement, and the relevance of nationalism and national identities both historically and in the present day.
Interview by Jack Ford and Ari Shavit
In this special edition of MetroFocus, author and journalist Ari Shavitjoins anchor Jack Ford to discuss the  history of the country of Israel – how it came to be, how it has survived, and the threats it faces. His  book, My Promised Land: The Triumph and Tragedy of Israel, draws on interviews, historical documents and his own family's story to examine the complexities and history of the Israeli condition. The interview follows the PBS premiere of the documentary 1913: Seeds of Conflict, which examines the seeds of today's Middle East conflict, sown in pre-World War I Ottoman Palestine.
 By Sr. Rose Pacatte, The National Catholic Reporter
The comprehensive and compact docudrama "1913: Seeds of Conflict" reveals little-known facts that conflated to become what writer/director Ben Loeterman proposes as the root causes for today's ongoing conflict between Israel and Palestine.

 By Mike Hughes, Visalia Times Delta
For 80-plus years, a key documentary film was missing. Then — in France, in 1997 — "The Life of the Jews in Palestine" was discovered, with its sweet views of an agrarian/Utopian world. That film forms a core of this balanced documentary, which shows the century-old roots of current crises. Pushed by prejudices in Europe, Jews moved to Palestine's promised land. They had a great gift for community, historians say here, building schools, farms and an economy. But their land-grab – ranging from bribery to simply outbidding the locals – left others homeless. The seeds of rage were planted.WATCH THIS: "1913: Seeds of Conflict" 9 p.m., PBS
 By Michael Hewitt,  OC Register
WATCH THIS
"1913: Seeds of Conflict" 9 p.m., PBS It's rare to find any discussion of the Israeli-Palestinian conflict that can be called "dispassionate," but this documentary is remarkably even-handed – yet far from dull.
 By Shaul Magid, Religion Dispatches 
If history is a "jungle"—nature at its most beautiful but also its most unforgiving—then an historian is an explorer: she must try to make order of chaos and find meaning in dense overgrowth. It is thus appropriate that Ben Loeterman's new film "1913: Seeds of Conflict" deploys an agricultural metaphor.

 By Kevin Ritchie, RealScreen
Director Ben Loeterman talks to realscreen about navigating the origins of the conflict between Palestinians and Jews during the last days of the Ottoman Empire in the PBS documentary 1913: Seeds of Conflict.

 By Claire Sadar, Mufta
 1913: Seeds of Conflict opens quite dramatically, with the discovery of a previously lost film, footage from 1913 of newly created Jewish communities in Palestine. Freezing on one of the scenes of happy crowds, a voice asks off-screen "who's that at the top of the frame?" and the camera zooms in to some figures in the edge of the shot. "I don't know," answers the archivist screening the film
 By Alyssa Goldstein Sepinwall, Forward
The documentary "1913: Seeds of Conflict," which airs on June 30 on the Public Broadcasting Service, disputes the idea that Muslims and Jews have always been enemies; it also challenges standard Zionist narratives about Jewish settlement in prestate Israel. Though "1913" is the first major American-Jewish film to take these positions, it is not unique in the Diaspora.

By Tom Tugend, Times of Israel
Conflict between Arabs and Jews in the Middle East now appears a permanent condition, but it didn't have to be that way, according to a one-hour PBS special premiering on June 30.
"1913: The Seeds of Conflict" traces the relationship between the two Semitic tribes at a time when the Ottoman Empire ruled over what was later designated as Palestine, and then, Israel.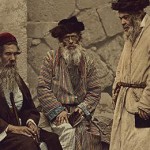 Film Examines early European Jewish immigration to Palestine
By Jordan Adler, The Canadian Jewish News
Hour-long documentaries airing on PBS usually do not arrive with much pre-broadcast buzz. In the case of 1913: Seeds of Conflict, a new film from Emmy-winning Jewish filmmaker Ben Loeterman about the roots of Israeli-Arab tension, there has been some controversy attached. Read more>
Middle East Issues in Mid-Wilshire
By Leonard Isenberg, Citywatch

Happened to catch a preview showing the other night at the Levantine Cultural Center of director Ben Loeterman's well researched and insightful documentary film Seeds of Conflict. It carefully examines the origins of the Arab-Israeli conflict circa 1913 by reenacting the actual statements made by members of the various factions at the time, while showing rare footage recently discovered from the period. Read more>
"1913: Seeds of Conflict" Resituates the Israeli-Palestinian Divide
By Rachael Tie Morrison, the Levantine Cultural Center
In July of 2014, hostilities erupted between Israel and Gaza, leading to three months of violence, bombing, and the deaths of thousands. It began with the kidnapping and murder of three Israeli teenagers, prompting Israel to go after several Hamas fighters, who were assassinated in Gaza. Hamas responded by breaking the official ceasefire with a barrage of missiles fired into southern Israel, which in turn responded with a seven-week military offensive. Though Egypt brokered a ceasefire in August, the violence continued throughout October. Read more>
Preview: '1913: Seeds of Conflict'
By Beth Accomando and Nicholas McVicker, KPBS

J Street, the self-described political home for pro-Israeli, pro-peace Americans, is hosting a screening tonight of "1913: Seeds of Conflict," a documentary that explores how the seeds of today's Middle East conflict were sown in Palestine during the Ottoman Empire.  "1913: Seeds of Conflict" is a documentary that does not pretend to be objective, and that's according to its director Ben Loeterman. Read more>
Documentary Review: Seeds of Conflict
By Palestine Square, the Blog of the Institute for Palestine Studies
"1917? 1948? 1967? 2000? What year marked a turning point in the century-long conflict between Palestinians and Israelis? A new documentary sets the date at 1913. Seeds of Conflict, directed by filmmaker Ben Loeterman, examines the peaceful coexistence of Jews, Christians and Muslims as Ottoman subjects and traces the worsening communal divisions to the arrival of European Zionists in the late 19th-early 20th centuries…. Among other material, the film features two prominent scholars of Ottoman Palestine, Institute for Palestine Studies Fellow historical sociologist Salim Tamari, and Journal of Palestine Studies editorial committee member and social historian Bishara Doumani." Read more>
Film Explores Roots of Israeli/Palestinian Conflict
By Shani McManus, South Florida Sun Sentinel
"Directed by Ben Loeterman, an award-winning writer, director and producer of current affairs and historical documentaries, the film combines the perspectives of Arab, Israeli and American scholars and dramatic reenactments that explore the little-known history of Palestine during the latter part of the Ottoman Empire, a time of relative harmony between Arabs and Jews." Read more>
What we're reading in the news:
Rivlin: "Shared" Jewish-Arab identity key to Israel's future
By Daniel Bernstein, in Times of Israel
President says Israelis and Palestinians both connected to the land; attempts to force either side to relinquish its narrative 'destined to fail' Read more>
On Nakba Day Pope Francis gives Palestinians a Symbolic Victory
By Janine Di Giovanni and Yemile Bucay, in Newsweek
In this Newsweek article, on the occasion of Nakba day, the annual day of commemoration of the displacement that preceded and followed the Israeli Declaration of Independence in 1948, SEEDS director, Ben Loeterman, comments on the Pope's efforts to bring about a peaceful solution to the conflict. Read more>
Hillel president agrees to meet with J Street U
By JTA, in Haaretz
Given SEEDS' mission to promote discussion and learning, we were drawn to a headline about a rift among American Jewish student groups reported by Israeli's daily Ha'aretz. The challenge to Hillel's president Eric Fingerhut came from J Street U after he withdrew from speaking at the J Street conference in Washington last week. In response, Hillel's president wrote, "we still have work to do at the national level to ensure that all students feel fully welcome at Hillel." "We also clearly have work to do in the Jewish community at large to be one people that respects, honors and celebrates its diversity rather than fearing it. This incident taught me just how deep the divide is."  Let the screenings begin! Read more>
What is a Palestinian? Uncovering Cultural Complexities
By Zachary J. Foster, in Foreign Affairs.
Zach Foster's provocative piece in Foreign Affairs tracing Palestinian identity starts by saying,  "Last week, on his return from a tour of the Holy Land, former Governor of Arkansas and Republican presidential nomination candidate Mike Huckabee said to The Washington Post that "there's really no such thing as the Palestinians."  Foster then uncovers the cultural complexities, tracing right back to characters in our film, including Najib Nassar and Ruhi al-Khalidi.   Read more>
With Arabic Subtitles, Theater Eyes Underserved Audience
By Jessica Steinberg, in The Times of London.
Arabic speakers in Israel who don't speak Hebrew or English don't see many movies, explains Jessica Steinberg in The Times of Israel.  Steinberg  explores the Cinematheque's effort to draw more Arabic speakers to Jerusalem's movie houses.  Read more>
After Attacks, Is Europe Still safe for Jews?
Steve Inskeep interviews Jeffrey Goldberg on Morning Edition.
NPR Morning Edition's host Steve Inskeep says, "One job of a journalist is to pose provocative questions. Jeffrey Goldberg poses a big one in the latest issue of The Atlantic."  Goldberg's question?  Is it time for the Jews to leave Europe.  One can't listen to him without thinking of the portrayal in our film of the first and second Aliyot.  Read more>